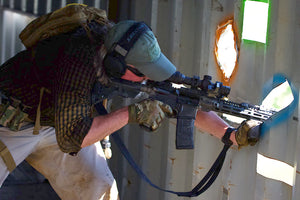 The max range for The Gun Run generally varies between 250-350yd which is doable with your average rifleman and equipment. These stages have the highest failure rates mostly because competitors rarely get an opportunity to use their gear at these distances.
This is a rifle only class but you should bring your current gear setup for a race. We will confirm zero, then run through several courses of fire to stretch your capabilities to max engagement distances over 400yd.
Date: October 20th, 9:00AM-Noon at DeWitts Outdoor Sports, 443 Jimmy Carriker Road Ellerbe, North Carolina 28338.

Equipment: You will need your centerfire rifle with magazines, eye and ear protection, round count will be completely up to you, so bring what you are comfortable expending. Do not bring M855 Green Tip ammo.
There will be very minimal running, you will not have to cross water, crawl under barbwire, or pick up a sandbag. Space is very limited so sign up early. No refunds within one week of class.