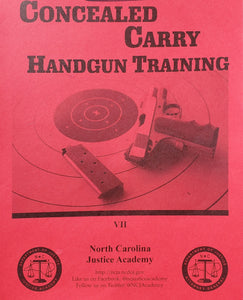 READ THIS! The next class will take place at DeWitt's Outdoor Sports in Ellerbe, NC from 9AM-5PM on TBD. You will need your firearm, a holster, a belt, any extra magazines you have, 50 rounds of ammunition. Eye and ear protection is available if you do not have your own. Do not wear open toed shoes or low cut shirts. Bring a lunch. This class is limited to only 10 slots so sign up now. 
It is highly recommended you use your personal firearm that you are going to carry.
There is a $25 non-refundable registration fee, if you do not show up on the day of the class you will only receive $55 out of the total $80 class cost refunded to you.